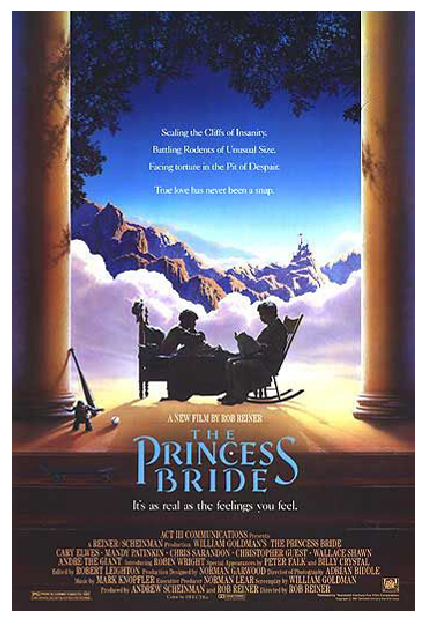 "Stone Soup" will promote a following as
lasting as "The Princess Bride".
Family Flicks Outperform R-Rated Titles ::
David Germain, AP Movie Writer
LAS VEGAS - Family crowds spoke louder than fans of racy stories or shoot-'em-up action flicks last year at movie theaters, with PG-rated films hauling in more money than R-rated ones for the first time in 20 years.
PG titles grossed $2.3 billion domestically, compared to $2.1 billion for R-rated films, according to figures released Tuesday by the National Association of Theatre Owners. PG-13 movies did the most business with $4.4 billion.
Five of 2004's top-10 moneymakers were rated PG, which means they were open to all audiences, among them "Shrek 2". "The Incredibles". and "Harry Potter and the Prisoner of Azkaban". Out of the top 25, only four carried R ratings, which prohibit those younger than 17 from attending unless accompanied by an adult.
"We want to call on our friends in the studios to continue this trend and to continue to distribute to us family titles, because that's where we sell more movie tickets," John Fithian, the group's president, said at ShoWest, an annual convention of theater owners.
Domestic revenue at movie houses rose slightly to $9.5 billion, though higher admission prices meant the actual number of tickets sold dropped 2.4 percent to 1.54 billion, according to the theater owners group and the Motion Picture Association of America, the key trade group for Hollywood's biggest studios.
The average cost of a movie ticket was up 3 percent to $6.21.
Fithian and new MPAA chief Dan Glickman said that despite the dip in ticket sales, it was the third straight year that revenues came in above $9 billion. More people have gone to theaters during that stretch than in any three-year period since the late 1950s, when television was eroding movie audiences, they said.
Studios managed to hold down overall expenses last year, with their average outlay to make and market a movie coming in at $98 million, down 5 percent from 2003. Production costs held steady at an average of $63.6 million a film, but marketing expenses fell 12 percent to a $34.4 million average.
Glickman, a former congressman and U.S. agriculture secretary under President Clinton, was making his first appearance at ShoWest since taking over in September from Jack Valenti, who retired after 38 years as MPAA head.
Like Valenti, Glickman said his biggest task is fighting movie piracy. Illegal copies of major films, often shot by camcorders off movie screens, can turn up for download on the Internet the same weekend the movies open. Pirated DVDs show up just days later.
During a trip last week to Mexico City, Glickman noted hundreds of flea-market stalls that appeared to be selling bootlegged DVDs and compact discs, including "The Pacifier", the Vin Diesel family flick that had debuted as the No. 1 weekend movie just five days earlier.
"The Pacifier" was produced by Glickman's son, Jonathan. When he related that to his son, there was "three seconds of silence, and `Dad, what are you going to do about it?'"
Studios and the MPAA have been pushing lawsuits and criminal arrests for those caught distributing pirated movies.
"Within days or even hours, the genetic code of a movie can spread from Washington to Bangkok," Glickman said. "This issue has potential to be a dagger in the heart of the motion picture industry."
Theater owners also remain worried about the shrinking gap between theatrical debuts and home video release of movies, Fithian said. That window now averages just four months and 16 days, potentially costing theater chains money if moviegoers figure it is not worth the bother to head to a theater when the DVD release is just around the corner.
Still, that narrowing gap has an upside for theaters, since booming DVD sales mean more profits for Hollywood in general, Fithian said.
"When a picture does extremely well on DVD sales, all that means is that studio
profits enough to take that money and put it back into production of good movies
for us in the following couple of years," Fithian said. "So more power to the studios to make more money in their ancillary lines of business."
Smart Money's On Family ::
Gary Strauss, USA TODAY
"Uncle Nino", a little movie about moral values, is finally getting its due.
Principal filming on the movie about a long-lost relative who reunites a troubled family wrapped in 2002. "Uncle Nino", which stars Joe Mantegna and Anne Archer, languished after distributors passed on the $3 million film made outside the studio system, dismissing it as too limited in appeal and marketability.
Nino bounced back onto the industry's radar after test-market screenings in Grand Rapids, Mich., produced enough word-of-mouth praise to extend an initial two-week run in December 2003 to 56 weeks. Nino has since gained a distributor and is scheduled to roll into major markets in February.
"I guess timing is everything," says "Uncle Nino" producer David James. "Audiences are hungry for films with clean, family messages."
Hollywood, whose concept of family entertainment has evolved from tearjerkers such as "National Velvet" to costly adventure films such as "National Treasure", is taking notice. Several wholesome family films are in theaters or are in development, including the documentary "Paper Clips", about schoolchildren learning about the Holocaust, and the poignant boy-adventure saga "I Am David" — both in limited release — and the dog-buddy film "Because of Winn-Dixie", which is due in February.
To some, the timing smacks of knee-jerk Hollywood response to the cultural divide illustrated in red and blue states. To others, the movies are efforts to cash in on the Christian-infused success of "The Passion of the Christ". But studios say they're not pandering to conservatives; they're simply responding to market forces. And in a nation still squeamish over wardrobe malfunctions and violence, studios are willing to bet that quiet, wholesome entertainment films like Nino will attract multi-generational audiences, especially preteens and the 40-plus crowd, the industry's fastest-growing demographic.
Mostly throwbacks to the soft-hearted Hallmark television and Walt Disney classics of the 1950s and '60s, the movies are like comfort food, warm stories served up free of spicy language and content, whiz-bang action sequences or unresolved angst.
"The country may be divided on some issues, but movies that have a good message for kids that adults enjoy are universally embraced," says Tom Rothman of 20th Century Fox. The studio is distributing "Because of Winn-Dixie", among a growing niche of G- and PG-rated family films that are starting to get financial backing from the studios.
For Mom, Dad, and the Kids ::
These films aren't a threat to the big-budget popcorn PG-13 rated films that have long attracted the industry's demographic sweet spot: 12- to 29-year-old males, who account for 50% of overall ticket sales. Nor are they replacing edgier, R-rated films that the Motion Picture Association of America trade group says now account for about 60% of U.S. releases.
"There'll always be a market for movies that push people's buttons and push the envelope," says Danny Fisher, CEO of City Lights Media, which produced John Waters' raunchy "A Dirty Shame" and the 2005 horror film "Tamara".
Yet just as sex and slasher genres have their fans, studios hope more small family films along the lines of "Fly Away Home", "My Dog Skip", "Free Willy", and "Tuck Everlasting" can pull in occasional moviegoers and some of the more than one-quarter of Americans the MPAA says never go to movies. With ticket sales flat for 2004, targeting fresh audiences with a few inexpensive family films appears a low-risk strategy.
"It's just good business to create movies that everyone wants to see," Disney spokesman Dennis Rice says. "It's all that much better when Mom, Dad and the kids agree (on) movies they all want to see."
There's enormous potential profit in these low-cost films, which are largely bereft of expensive A-list stars, pricey action sequences and costly marketing.
"My Big Fat Greek Wedding", for instance, cost just $5 million to make. Like Nino, it had trouble finding distribution. But after its 2002 release, it went on to gross $368.7 million worldwide, the biggest non-studio film ever. "Whale Rider", another 2002 release, cost $3.5 million but made $41.4 million worldwide.
"It's all about reaching the broadest market and the most money," says Bob Berney, the Newmarket Films chief who masterminded the distribution of both films, and "The Passion of the Christ".
Tapping the Market ::
Though remaining focused on big-budget action films, several big studios are turning to Walden Media to capture some of the family-film market.
Financed by billionaire investor Philip Anschutz, Walden began mining "nice" films in 2001. "There's been a desire to grow an underserved market with non-cynical family entertainment, films that provide inspirational experiences," says Walden Media CEO and co-founder Cary Granat.
Walden and Disney teamed on 2003's "Holes", which is based on the Louis Sachar novel and screenplay about a boy who is unjustly sent to a detention center. The $40 million film made $71 million worldwide, and DVD sales have been strong. Less successful was this year's Walden/Disney remake of "Around the World in 80 Days", which cost about $140 million but made just $51.5 million worldwide, a sign that these films, like others, carry risk and aren't automatic cash cows.
Walden already has struck partnership deals with Disney, 20th Century Fox and Paramount that could result in more than a dozen family films. Walden and Disney will release "The Chronicles of Narnia: The Lion, the Witch and the Wardrobe", a live-action film based on the C.S. Lewis children's classic, in December 2005.
The studios are hoping for a Harry Potter -size franchise, with six more films based on Lewis' novels to follow over the next decade.
Walden has a similar distribution deal with Winn-Dixie distributor 20th Century Fox to produce films based on children's books "Bridge to Terabithia", "The Giver", and "Nim's Island", as well as a fourth based on the Biblionauts comic book. Walden and Paramount also have announced "Charlotte's Web", based on the children's classic and starring Dakota Fanning, for 2006. Walden's "I Am David" is being distributed by Lions Gate Films.
Granat says the films have a built-in audience potential because they're based on books that are read in many schools. That helps market films to educators.
Nino and other small films are a tougher sell. They have limited marketing budgets that require creative campaigning and reliance on word-of-mouth. "If you're not making a $100 million movie, studios don't know how to spend less than $20 million to $30 million on marketing," James says.
Clearly, Hollywood does know how to market big-budget versions of family-style films. Disney's "National Treasure", for example, which cost about $100 million to produce, has huge cross-promotional deals with McDonald's, Visa, Verizon, America Online and smaller marketing agreements with Northwest Airlines, TiVo and others worth an estimated $160 million.
Selling "Because of Winn-Dixie" is tougher. There are no video game, toy licensing or promotional contest tie-ins for the movie, which is based on Kate DiCamillo's best-selling novel about a lonely girl and her love for a stray mutt. So the movie trailer focuses on the dog's crazy antics, belying the film's more serious themes.
"Uncle Nino"'s marketing efforts will largely be on a grass-roots level. Nino director/writer Robert Shallcross compares the movie's theme about an immigrant family to that of Greek Wedding.
The Audience Is Out There ::
Mantegna plans to promote the film by visiting local Italian-American groups and participating in film festival screenings to garner the word-of-mouth attention.
"What always amazes me is that there's a history of films in this genre that kind of make a splash," says Mantegna, star of CBS' critical hit Joan of Arcadia. "The audience is out there; it's just not being catered to. Hopefully, it'll have a life on (TV) and DVD for audiences 10 years or 100 years from now."
Nino already has broken Greek Wedding 's 52-week streak for longest-running movie at Celebration Cinema's Grand Rapids multiplex. Executive vice president Ron Van Timmeren says the film will continue its run through at least year's end. "It's the type of film my 8-year-old and grandparents could see together. There aren't a lot of those kinds of movies."
Theater operators like Celebration and Iowa-based Fridley Theaters, perhaps best known outside the Midwest for deciding not to show Michael Moore's Bush-bashing "Fahrenheit 9/11", say they hope for more family-style films. November was among the best months in Fridley's 64-year history, largely because of big-budget family fare such as "The Incredibles", "National Treasure", "The SpongeBob SquarePants Movie", "The Polar Express", and "Christmas With the Kranks".
"We were overloaded with family movies, and we're pretty happy about it," vice president Brian Fridley says. Adult-themed movies tend to bomb in the 2,000-to-35,000 population towns where Fridley operates. "Alfie was a disaster. But I guess it was a disaster everywhere."
Such failures may pave the way for all-audience entertainment — both big- and small-budget films.
"At the end of the day, films that are interesting and entertaining appeal to red-staters and blue-staters, liberals and conservatives," City Lights' Fisher says. "It's about making movies everyone wants to see."